VIEW OUR VIDEO: https://www.youtube.com/watch?v=-Y0vEG8i5Vc

Join our listserve:  You'll receive one monthly gig announcement
**************************************************
We are available for your private gatherings.
**************************************************
*************************************************************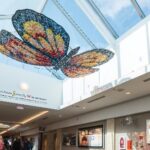 NASHVILLE AIRPORT
MONDAY, AUGUST 8, 2022
NOON – 2 PM

True, the airport isn't where you'd typically go to hear live jazz . . . . or to have lunch either. But you can do both at the  Green Beans Coffee stage (before security; open to public).  We'll play jazz standards, sing one or two Latin tunes, and incorporate African rhythms on the gyil (African xylophone). I returned recently from Tanzania, Africa, with lots of new hand percussion instruments made by the Masai. Audience participation on these very cool instruments is a must!  With Linda "Rose" on vibes, gyil, and vocals; accompanied by Fish Michie on keys,  Reggie Murray on horn and flute; Doug Russo on bass; and Todd London on drums. Watch out for a good time!

***********************************************************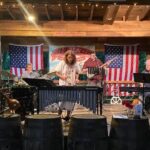 Amber Falls Winery & Cellars
Saturday, September 24, 2022
3:00 – 7:00 PM
Fall is upon us! Pack a picnic lunch and enjoy the comfortable seating under the veranda or at hand-crafted wood tables and chairs. There'll be lots of jazz standards, some cool African rhythms on the gyil  (African xylophone), and audience participation on hand percussion instruments from Tanzania, Ghana, Mexico, and around the world.
***********************************************************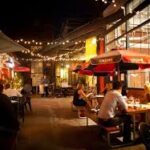 BELLA NAPOLI RESTAURANT AND PIZZERIA

SEPTEMBER/OCTOBER
DATE TO BE ANNOUNCED
6:00 – 9:00 PM
PLEASE CHECK WITH RESTAURANT IF RAIN PREDICTED.
Join us on the patio at this great Italian restaurant where you can enjoy authentic Napoli-style pizza, homemade pastas, and desserts.  Or uncork a bottle of wine while listening to the cool jazz standards with kick, jazz vocals, and African music with a twist. As always, there'll be a Latin vocal or two, music on the African xylophone (gyil), and audience participation on hand percussion instruments from around the world. Come try out some of my new instruments I collected during my recent trip to  Tanzania, Africa. The atmosphere is casually elegant — that is, family-friendly and date-night perfect.
Reservations recommended.
For more info on Bella Napoli, go to www.bellanapolipizzeria.com.
With Linda "Rose" on vibes, gyil, vocals; Fish Michie on keys; Reggie Murray on horn and flute; Doug Russo on bass; and Todd London on drums. Watch out for a good time!
***********************************************************
And for radio entertainment . . . . Listen any time to Linda "Rose" and the music that influences her . . . on ACME Radio Live with Greg Pogue. Go to: https://www.mixcloud.com/AcmeRadioLive/greg-pogue-linda-rose-nashville-jazz-50-20170129
You surely will be entertained and you might be mildly surprised at what you hear and learn.
***********************************************