VIEW OUR VIDEO: https://www.youtube.com/watch?v=-Y0vEG8i5Vc
Join our listserve:  You'll receive one monthly gig announcement.
We are available for your private gatherings, playing as a trio or as a full band.
*********************************************************
COMING SOON: Multi-Media Show With Photos, Videos,
and Stories from Around the World
********************************************************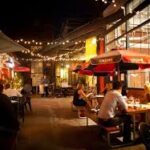 BELLA NAPOLI RESTAURANT AND PIZZERIA
Friday, September 22, 2023
6:00 – 9:00 PM
Join RoseOnVibes Quintet on the patio (or breezeway if rain) at this great Italian restaurant. We'll be playing cool jazz standards with kick, Latin vocals, contemporary jazz, and African music with a twist. We've added some new tunes to our repertoire that will get you movin'. You might even want to get up and dance while enjoying authentic Napolitano pizza, homemade pastas, and desserts.  You can also just uncork a bottle of wine to have with dessert. All al fresco (weather permitting) on a warm autumn evening!  The atmosphere is casually elegant — that is, family-friendly and date-night perfect. Reservations recommended. For more info on Bella Napoli, go to bellanapolipizzeria.com.
With Linda "Rose" on vibes and vocals; Bill Alexson on keys;  Roland Barber on trombone and conch shell; Todd London on drums; and Doug Russo on bass.  Watch out for a good time!  
  ***********************************************************
AMBER FALLS WINERY & CELLARS
Sunday, October 8, 2023
3:00 – 7:00 PM
Autumn's in full swing in Tennessee!  Pack your dinner and enjoy comfortable seating under the veranda or at hand-crafted wood tables and chairs. There'll be lots of jazz standards, some cool African rhythms on the gyil  (African xylophone), a Latin vocal or two, and contemporary jazz. As always, we welcome audience participation on hand percussion instruments from Tanzania, Ghana, Mexico, and other worldly places. And don't forget to visit the wine tasting bar! For more info on Amber Falls, go to amberfallswinery.com. 
With Linda "Rose" on vibes, gyil, vocals; Fish Michie on keys; Reggie Murray on horn and flute; Doug Russo on bass; and Todd London on drums. Watch out for a good time!
**********************************************************
And for radio entertainment . . . . Listen any time to Linda "Rose" and the music that influences her . . . on ACME Radio Live with Greg Pogue. Go to: https://www.mixcloud.com/AcmeRadioLive/greg-pogue-linda-rose-nashville-jazz-50-20170129
You surely will be entertained and you might be mildly surprised at what you hear and learn.
***********************************************