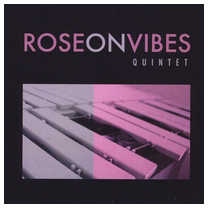 These tunes are samples of our live performance and appear on the self-titled CD, RoseOnVibes.
Moonglow
A Night in Tunisia
Cold Duck Time
Besame Mucho
I'm Beginning to see the Light
Bernie's Tune
Ja Da
Afro Blue
Kpanlogo
Softly As in A Morning Sunrise
Below are two clips of RoseOnVibes playing with a Cuban ensemble:
Alonzo –
This is a composition by Cal Tjader , who brought Latin music to the jazz vibraphone. His tune Alonzo is a typical example of Tjader's prowess. This clip features Rose on the vibraphone with the Cuban Ensemble at the Nashville Jazz Workshop.
Sabor –
Sabor (Flavor!) is a traditional Latin tune written by Joao Donato. It's another classic Cal Tjader cut. Like Alonzo, above, this tune features Rose on the vibrahone with the Cuban Ensemble at the Nashville Jazz Workshop.
Below are two clips of the RoseOnVibes Trio:
WAVE –
This is a classic Carlos Jobim tune. Did you know Brazilians refer to Jobim as "Tom Jobim"? That's because his first name is Antonio — Tom for short, in Brazil. Scores of American jazz musicians have recorded this tune. You'll hear it played as a ballad, where you can picture yourself drifting along the seashore in Rio, or highly stepped-up, as waves crash wildly on the beach. Enjoy this uncut music clip.
New York Gyil-
Rose on Vibes TRIO. This is another uncut recording of Rose's original composition played on the African gyil, accompanied by acoustic bass and guitar.